Korean style pot of chicken soup – "Dak Hanmari (닭한마리)"
"Dak Hanmari( 닭 한마리, Pot of Chicken soup)" is a Korean style chicken soup derived from the Dongdaemun(동대문) area, where a chicken is put into a large pot and boiled with potato, vegetable and noodle. It looks so simple food, but it is very taste. There are several "Pot of Chicken soup" restaurants street nearby "PyungHwa Sijang(평화시장)". You can access from subway line 1 or 4, Dongdaemun Station, Exit 9 – 5 minute walk. You can find the street where is gathered "Dak Hanmari(닭한마리)" restaurants nearby Cheonggyecheon Stream.
In this street, there are several restaurants but today I want to introduce "MyungDong Dak Hanmari(명동 닭 한마리)" which is one of my favorite place.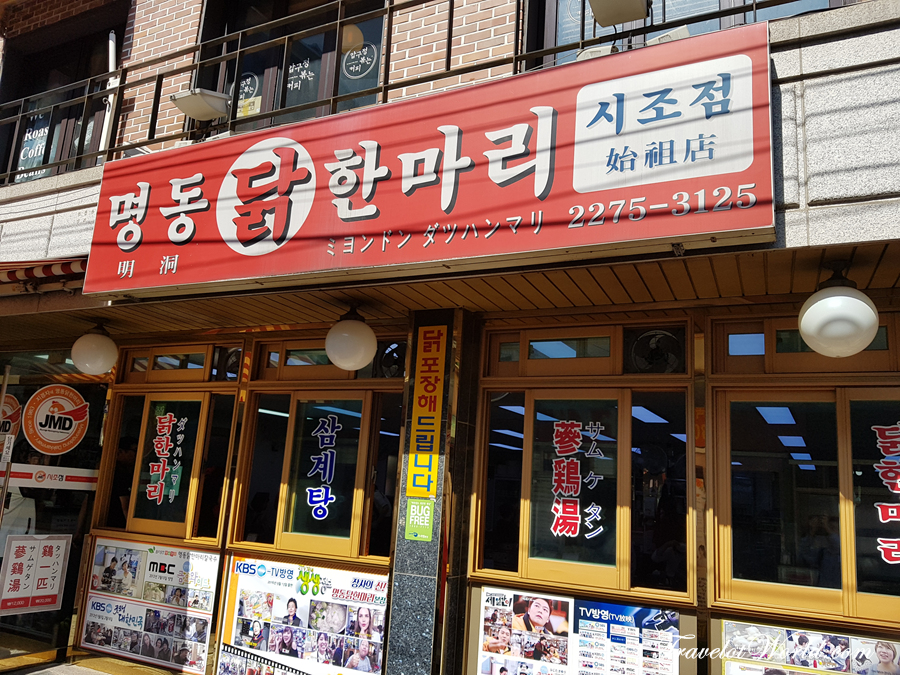 There are two branch restaurants of "MyungDong Dak Hanmari" in this street. This picture shows one of stores which is called "Shi Jo (Original) branch". Recently "Dak Hanmari" is introduced many times from mass media, and now it becomes one of Korean significant traditional food. Lots of foreign guests are visiting here.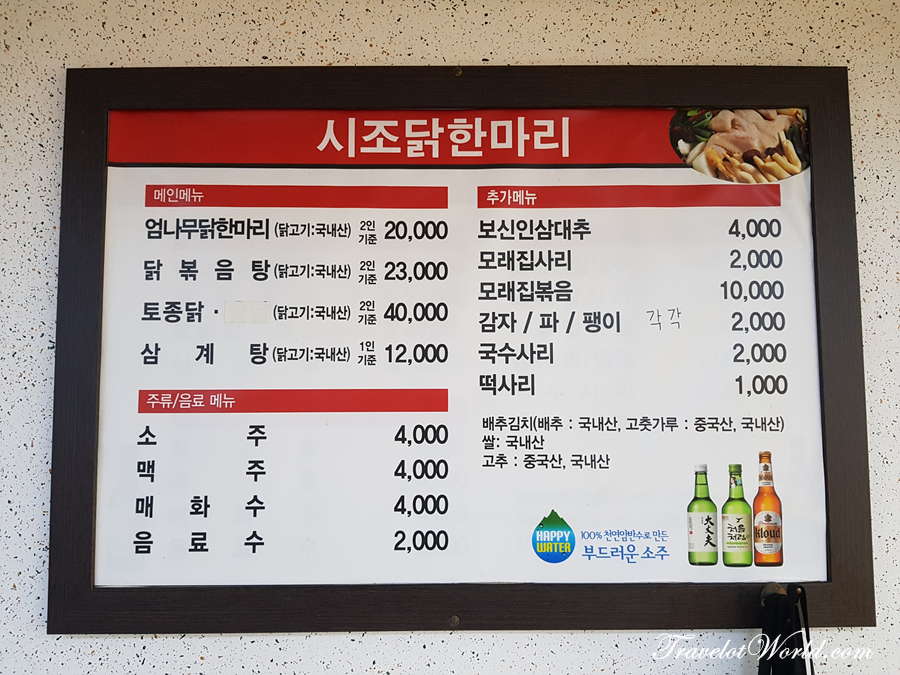 1 chicken pot can share among 2~3 ppl. I recommend to add their hand-made noodles, potato and rice cake(떡사리). Then it would be enough for 4 people.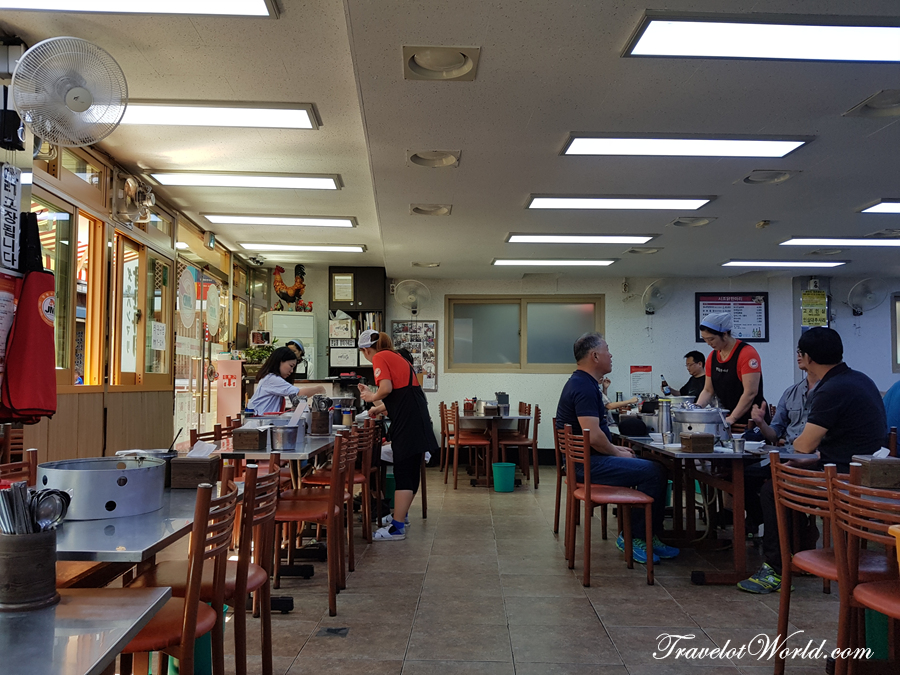 I visited before lunch and today the restaurant isn't in a hurry. Total seat are over 100 people.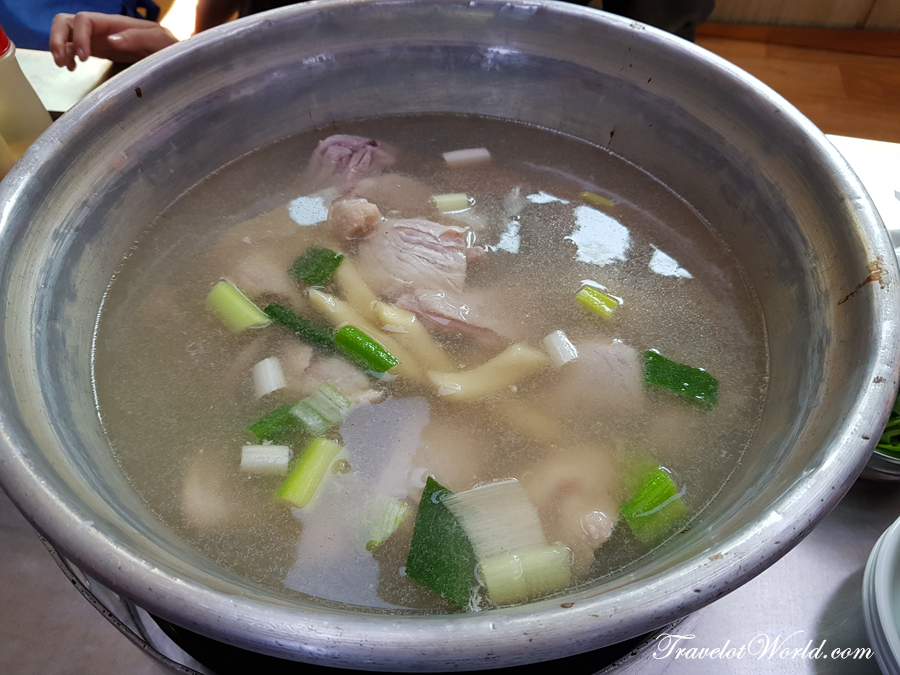 Soon I receive a served with a large pot of soup. It seems the chicken in the pot is not big, but it would add several garnish such as potato, mushroom, ginseng, rice cake and son on.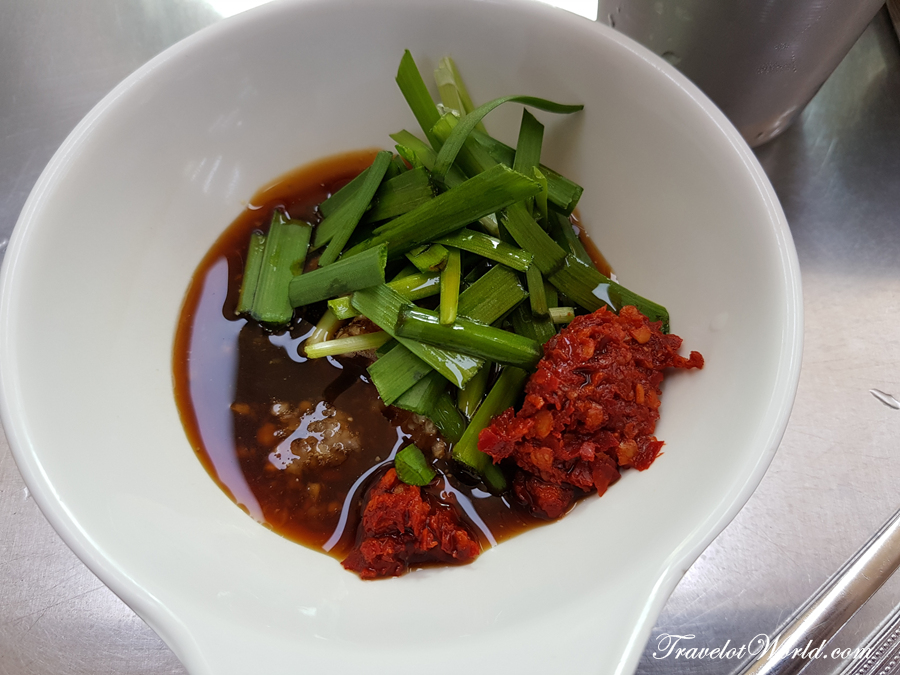 One of important feature of a pot of chicken soup is in this sauce. The flavor of sauce is different by each restaurant.  It is consist of soy sauce, garlic, leek, red chili pepper, vinegar and mustard. You could make this sauce for you at the table which you can then dip the chicken. According to the manual which is displayed on the wall, they should shake with one direction. I don't know the reason.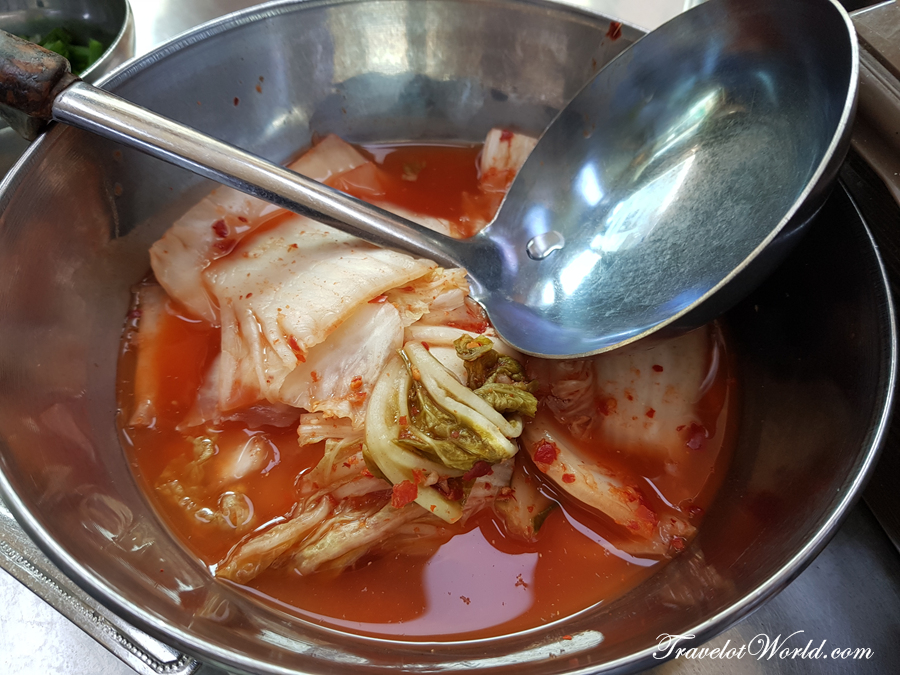 The side dish of Kimchi was served with a lot of broth. Sauce is so spicy therefore Kimchi seems to make light flavor.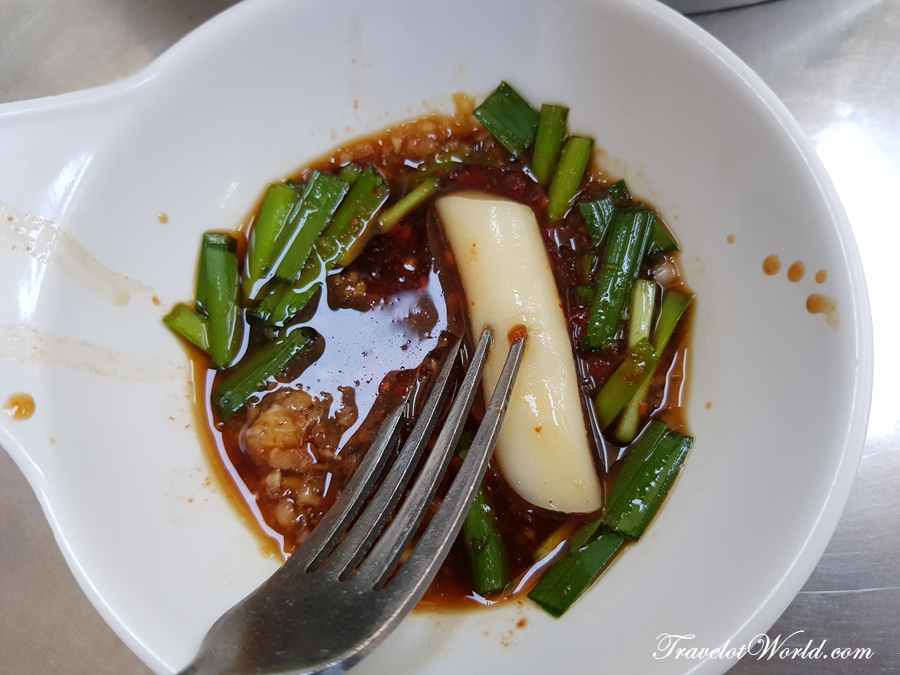 When you boil a pot, rice cake comes to floats on the broth. Then let's take the rice cake with sauce.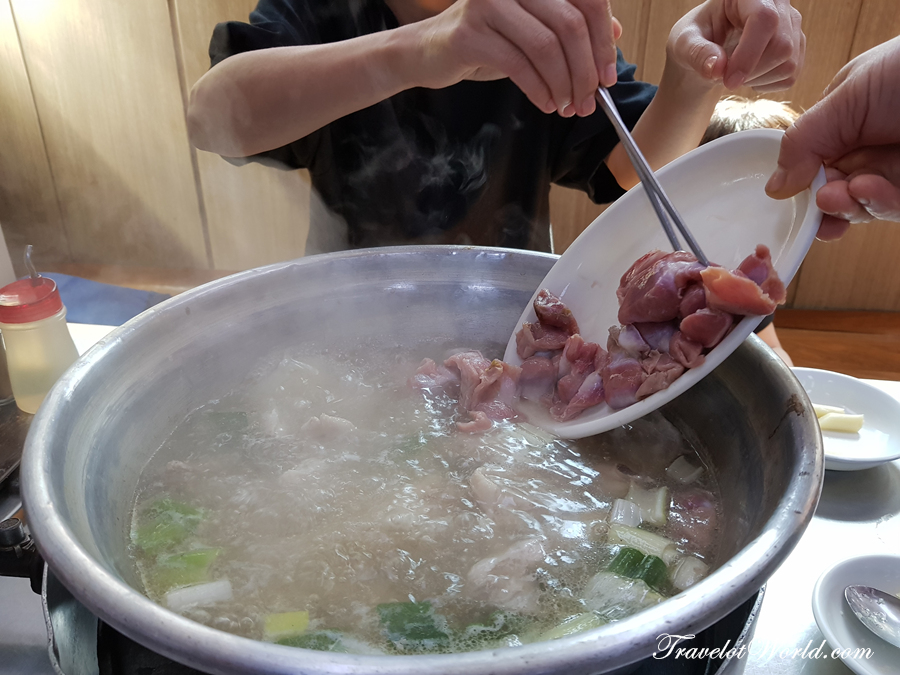 After the soup is boiling, I added chicken gizzard. But gizzard smell and its taste is not good. It seems it is not fresh. This was a serious fault of this visit.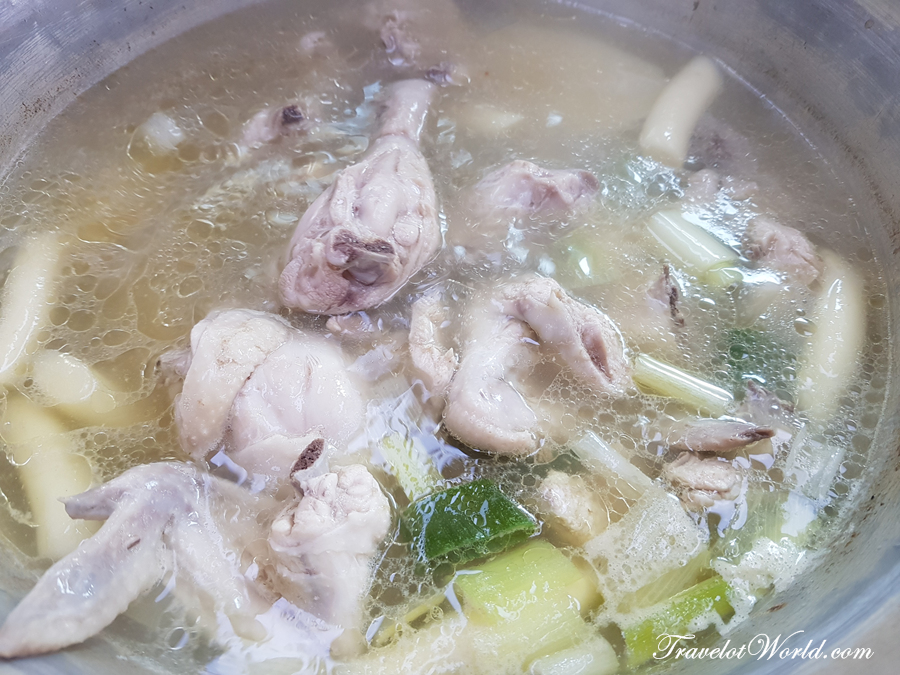 The chicken soup was nice and yummy. Through the bloggers recommendation to eat it with chili sauce provided. Personally I preferred the clear chicken soup without the chili sauce.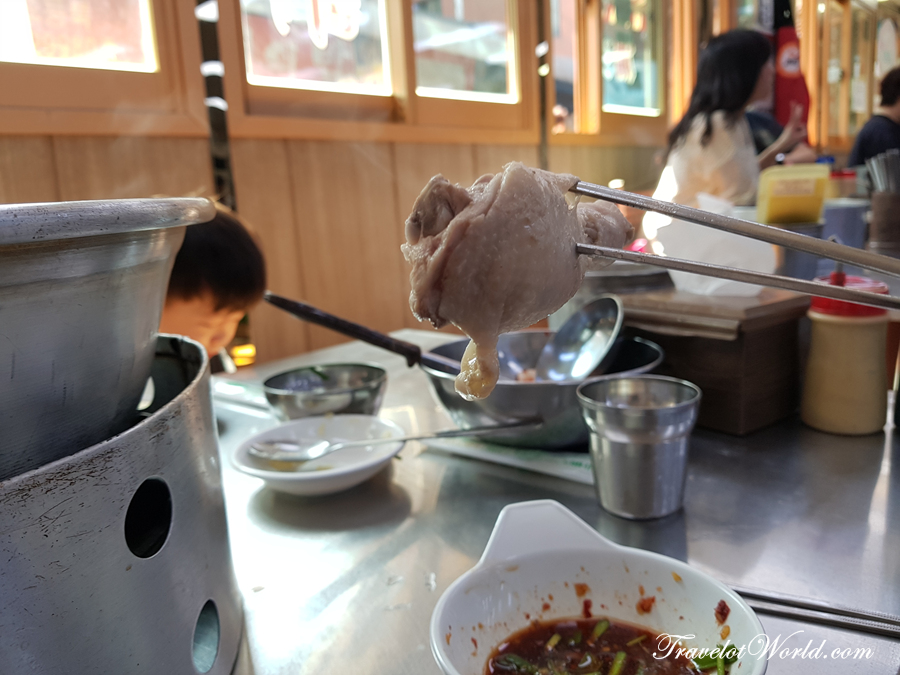 The flavor of sauce with chicken is really nice. Around the world, chicken taste is always similar and satisfied with any places. In Korea, there is a popular proverb in the web, "Chicken is not betrayed."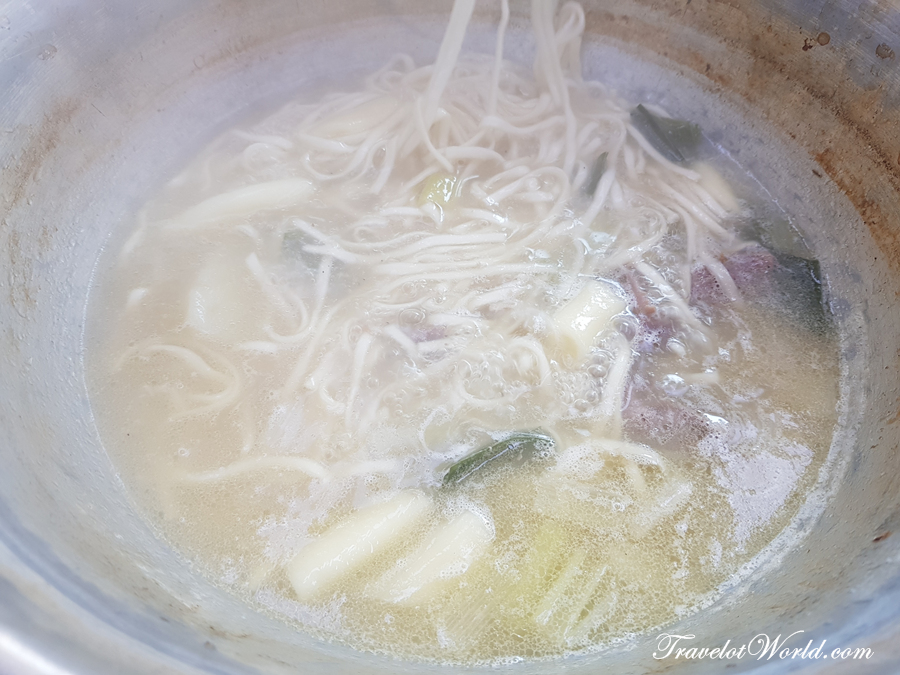 Lastly, you can order the noodles and finish it with the chicken broth. Eat protein(chicken) and carbohydrate(noodle) makes me full.
Today 4 people visit here and we paid 28,000 won. This is very reasonable price with satisfied feeling.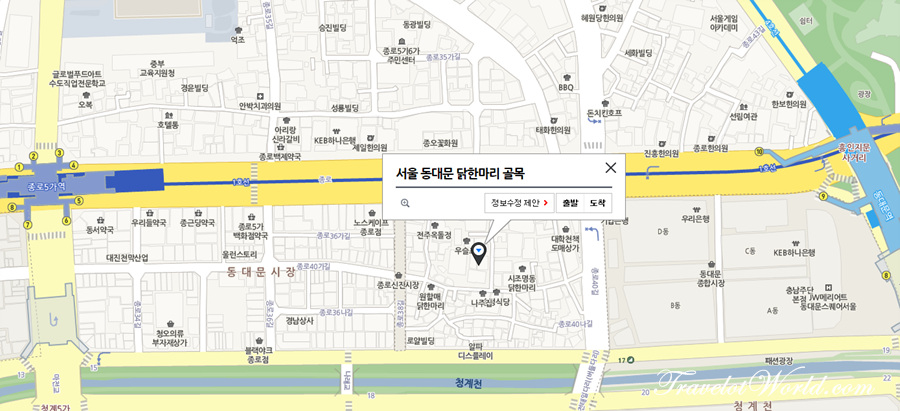 MyungDong Dak Hanmari : 14, Jong-ro 40-gil Jongno-gu Seoul
TravelotWorld Rate
3.8/5.0

Delicious, reasonable price with enough amount




But gizzard was not fresh.

Opening

Mon~Sun

10:30 ~ 20:00

Average Price

10,000 ~ 20,000 ppl

 

Parking

No

Dongdaemoon is very complex area.




I recommend to use public transportation or




use nearby outlet(Hyundai or Doota) parking lot

Menu

Dak Hanmari(닭한마리)

20000 won

Dak Bokumtang(닭볶음탕)

23000 won

Samgyetang(삼게탕)

12000 won

garnish – gizzard

4000 won

garnish – potato

2000 won

garnish – noodle

2000 won

garnish – rice cake(떡사리)

1000 won