Club Med Cherating 1 – '17 Summer Vacation
I decided to go to Club Med this summer and booked six months ago for earlybird discount.
Introduce of Clubmed Cherating
Club Med is one of the best choice for family vacation. Children are well-cared at Mini Club, swimming pool is well-equipped and parent can relax at the resort. Buffet food is free of charge, so I don't care about meal.
I did reservations at the Club Med website(Link). If you book your summer vacation within February, it could be a little discount from normal price and you will get an additional 2% discount when you book online. Some people said it is cheaper to make a reservation on the English website rather than the Korean website… I will try this next time.
If you make an online reservation, you should pay 20% as a deposit, and the remaining can be paid out about a month before departure. The accommodation price is depending on the season, but in peak season, the club room (general) fare is about $350 ~ $500 per adult per night at the regular price. It is very expensive even though considering the all inclusive option. If you make a reservation several month earlier, it is usually 40% discount, so you can pay about $200. Still it is expensive for a trip to Southeast Asia. But it's worth to pay for Clubmed.
Path : KL Airport → 30min by flight → Kuantan Airport → 50min by bus → Club Med Cherating
Chattering Beach is located in a city called Kuantan, it is located east from 240km of Kuala Lumpur. Here is a coastal city on the eastern side of the Malay Peninsula. The name of the beach where Club Med is located is "Cherating Beach". Unlike the western sea of the Malay Peninsula, the eastern sea is more clean, therefore there are lots of resorts.
You can also drive from Kuala Lumpur (KL), but Club Med offers flights inclusive option from Korea to Malaysia (Incheon ~ KL ~ Kuantan). Below flight reservation offered by Club Med.
Arrival
Malaysia Airlines MH67     ICN 11:00 Departure – KUL Arrival 16:35   (Flight A333)
Malaysia Airlines MH 1276 KUL 18:40 Departure – KUA 19:20 Arrival
Departure
Malaysia Airlines MH1281 KUA 19:50 Departure – KUL 20:35 Arrival
Malaysia Airlines MH66    KUL 23:30 Departure – ICN 07:10 Arrival (D+1) (Flight A333)
The Incheon – KL line was allocated A333, and the arrangement of the Economy seats was 3-4-3. Therefore our 4 family members were assigned to the middle four seats. Malaysian Airlines had a history of accident in the past. Because of this bad reputation, there were lots of empty seats among the seats.
KL to Kuantan takes 25 minutes by plane. Because the plane was so small, it shakes a lot. But the flight time was short, so it was not too bad.
After review my vacation in Clubmed, one of my most disappointing point was missed an overnight stay at KL. If you book flight inclusive package at Clubmed homepage, you would not be able to visit to KL because of it's tight transit time.
Picture taken at Kuantan airport.
When I arrived at Kuantan airport, I saw the Club Med booth at Kuantan Airport. Korean GO Julia wait for us. staff helps put the luggage on the bus. But some tourists lost their luggage at airport, we waited more than 30 minutes on the bus. I heard this is the frequent issue. Sometimes baggage does not arrive properly at Kuantan Airport (!).
After waiting for this, bus from Kuantan Airport took about an hour and arrived at Club Med. At that time it was around 9 PM. The main restaurant was already closed because its open time is until 9 PM, so we went to the noodle bar, which was open until 11 pm,
When you come to Club Med, the pattern seems to be the same. On the first day, we arrive at night, check in, rest and meet with Korean GO next morning to introduce the overall facility location and so on. The first day was very tired, so when we entered the room, we felt asleep.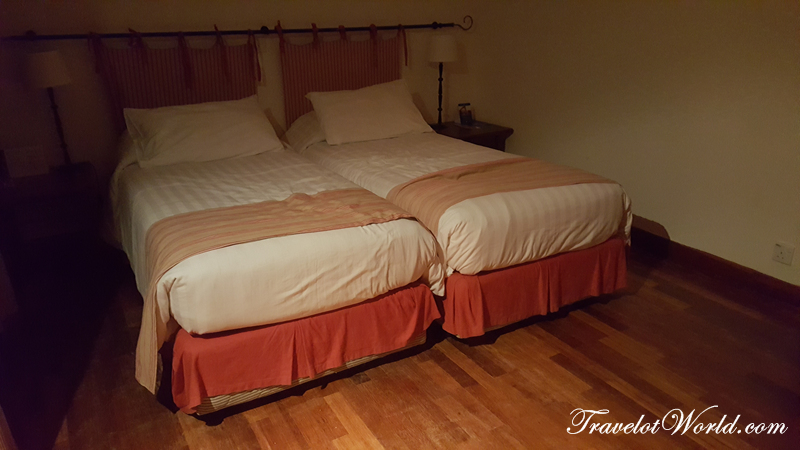 It is the appearance of club room. We were 4 family members, therefore I made a reservation for connecting room. Club Med Regulations allow you to stay for up to 3 people (2 adults + 1 child) in one room, and make a reservation in a connecting room for 4 or more people.